Southern Cross Metals
Scrap Metal Merchants Sydney
Hours of Operation
| | | |
| --- | --- | --- |
| Hours |  Yard | Phones |
| Monday - Friday | 7.30 am - 3.30 pm | 7.30 am - 5.00 pm |
| Saturdays | 8.00 am - 11.45 am |   |
Dealing In
| | | | |
| --- | --- | --- | --- |
| Stainless Steel | Aluminium | Precious | Lead |
| Non-Ferrous | Ferrous | Bronze | Zinc |
| Electronic Scrap | Copper | Cable | Brass |
Southern Cross Metals has been involved in recycling of all types of scrap metals for over 35 years. We operate from our premises in Sefton, Sydney, Australia, where we have been from the start. Southern Cross Metals are scrap metal merchants, traders and indent agents of all types of  ferrous and nonferrous metals as well as semi-finished products. We have the infrastructure to provide an efficient service for both small and larger quantities.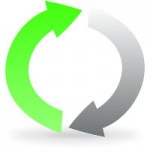 The scrap metal we purchase is processed ensuring that our high standard of quality is adhered to and we confirm not only to international standards and specifications , but also to our customers specific requirements . Whilst this may all sound a little 'old- school' we are committed to the process, and the valuable roll we play in making the planet a better place. In this ever changing industry we stay abreast of new innovations through our worldwide network of associates.
We abide by the New State Legislation put in place 1st March, 2017 to reduce theft by regulating the Scrap Metal Industry in NSW. We understand the importance of the legislation and have implemented procedures to ensure we comply with its requirements.
The legislation has bought in "cashless payments" throughout the Scrap Metal Industry. The intention is to make payment for goods traceable to make it easier for the NSW Police to investigate suspicious activity, in relation to the disposal of suspected stolen material.
We have a strong workplace health and safety policy in place and  pride ourselves in being a safe workplace. We have an extensive range of customer and suppliers both in Australia and throughout the world. If you are looking to source some raw material, or dispose of your scrap metal, call our friendly staff or if preferable send us an email. All our contact details are readily available. When looking for scrap metal merchants in Sydney, you can be assured of the best service when you come to us.
Southern Cross Metals
Effective the 1st of March 2017 , scrap metal dealers are prohibited from paying cash for scrap metal , as per the Scrap Metal Industry Act 2016.Payments from this date for your scrap metal can now only be made via EFT or a cheque made payable to the individual or company . For further information please do not hesitate to contact us.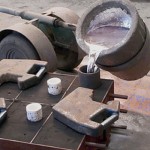 Foundry Supply
Quality Assurance
We are suppliers of all grades of Stainless Steel to various foundries within Australia and abroad. The Foundry Grade material is processed and sized to suit the foundry requirements, as well as meets internationally expected quality standards.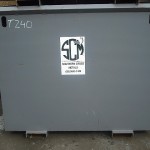 Bin Exchange Programs
We run a Bin Exchange program, which is dependent upon  the client requirements. The bins are supplied to the customers' specifications .We can arrange a regular pickup/exchange program, or simply dial on demand and we will arrange a pickup as soon as practicable.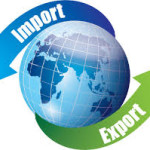 Import Export
Whilst we look to support the Australian Domestic Market, We also engage in both the importation and exportation or scrap metal from and to various parts of the world, in order to make sure that we have the greatest quality material, and maintain supply to our cutomers.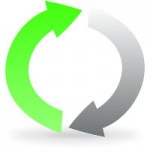 Recycling
Recycling is our core business. Metal many consider waste can be a real resource for others. There is a dollar value to all scrap metal. The usual process often involves sorting, grading, sizing, and general processing, this represents some of the value added  services that we provide.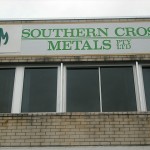 Buy And Sell Scrap Metal
Southern Cross Metals buys and sells both ferrous and nonferrous scrap metal, at fair and reasonable prices,  and we act as an indent agent when required. We have years of experience in this industry.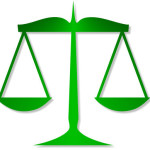 Weight on Site Facility
Our trucks are fitted with the appropriate weigh on site technology; therefore our customer will immediately be aware of the weights and quality of the scrap metal that is collected.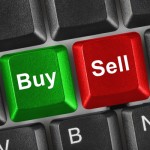 Yard Buy and Sell
Our yard is open six days a week and we readily receive scrap. Our helpful staff will will ensure that our suppliers receive the maximum value for their scrap metal. Yard opening hours are on the Home Page.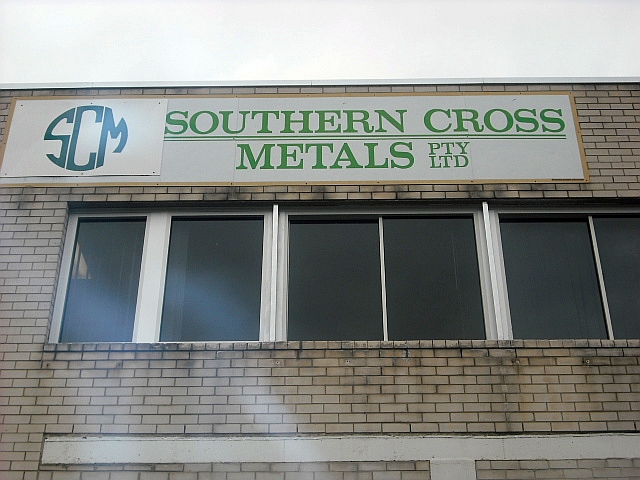 History
Southern Cross Metals was established in 1980, specialising in the field of electronic and computer scrap. Since those humble beginning we are now a competitive and experienced trader in all grades of ferrous and nonferrous scrap metal, as well as retaining a division to recycle e-waste. Within our company we now have over 100 years of experience in the recycling industry.
Our sister company "Admax Processing" was later started, with an additional partner, as a distributor for brass extrusions, and Admax Processing subsequently expanded into trading and processing all types of ferrous and nonferrous scrap metals . This expansion increased business, both intra and interstate, leading to dealings with a Scrap Metal Yard in Queensland. Admax Processing (Queensland) Pty Ltd is still trading in association with Southern Cross Metals today.
Southern Cross Metals has associations with companies on most continents and therefore are kept abreast the commodity markets on a daily basis. Furthermore, as a result of our experience and work ethic, we produce products that are of the highest calibre within the industry, which has helped maintain our loyal customer base for over 30 years.
Traders
Robin Merkel 
Managing Director
Robin Merkel has been involved in the scrap metal industry for over 25 years, and has held a variety of positions both in South Africa and Australia. Robin is the managing director of the firm, and controls to a large degree all inflows of stock, and outflows of stock in order to maintain the highest quality product. He is highly respected by workers within the firm and in the wider industry, for his dedication and the ability to maintain the highest caliber product in the industry. His mobile number is 0488 488 085 , or please contact him at the office. Alternatively if required you can email him at robin@sthncrossmetals.com.au
---
Don Humphries
Trading Manager
Don Humphries has been involved in the scrap metal industry for over 30 years, predominantly as a trading manager. Don is widely regarded as trustworthy, and overseas to a large degree to inflows of stock within the firm. Don has been at Southern Cross Metals for 15 years. Please contact him at the office or on his mobile number , 0417403582 or alternatively you can contact him via email . His email address is buyer@sthncrossmetals.com.au
Yard Staff
Stephen Williams
Yard Manager
Steve is the yard manager, and has been involved with Southern Cross Metals for many years. Steve is involved in managing day-to-day activities within the yard, and to make sure that the quality of the products delivered are of the utmost quality. If you have any queries relating to bin exchanges, prices or delivering of material please don't hesitate to contact Steve at the office.
Administration
Petrina Essey
Admin Manager
Petrina Essey is the Admin Manager at the firm and is extremely experienced within her field. She not only controls all admin data and requirements for the firm, but also organizes shipping and transportation requirements for the firm. Please contact her on the email address office@sthncrossmetals.com.au
13-17 Yamma Street, Sefton NSW 2162 Australia
02 9645 1444